Filter by Category
Visual Arts
From Brush to Business: Making Your Art Work
with Blue Robin

Feb 22, 2019 at 4 pm

, runs for 12 weeks
FRIDAYS from 4:00 to 6:00PM
Ages 14 & UP
"From Brush to Business" will focus on the individual artist and the team that makes a gallery exhibition happen. Students will both make art and learn the ropes to earning a living making art. Together the group will create, plan, and set up an art exhibition. Students will design and print tickets; make, promote and sell their art; curate the exhibition; and prepare an art gallery show. Everyone on the team will have a role which features their personal strengths! Profits from the exhibition will be divided based on work and time put into the overall event.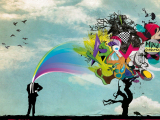 Mindful Mixed-Media with Melissa
with Melissa Muttiah

Feb 19, 2019 at 5 pm

, runs for 12 weeks
TUESDAYS from 5:00 to 7:00PM
Ages 14 & UP
Join Art Therapist Melissa Muttiah in this relaxing and mindful class where students will be exposed to a wide range of two- and three-dimensional media promoting self-exploration, experimentation, and creativity. The purpose of this class is to nurture the student's creative process through artistic experiences to instill confidence, increase self-awareness, and build a more positive sense of self. Through these and other projects, students will be given opportunities in a safe and caring environment to take creative risks, build community with like-minded students and teachers, and learn more about themselves and their artistic potential.