Filter by Category
Dance/ Movement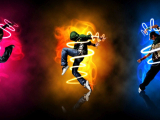 Dance and Movement
with QueenLin Howard

Feb 8, 2018 at 6 pm
This class will engage in dance exploration through different structures involving learning and creating theme dance choreography based on traditional dance culture and popular dance culture. Students will participate in improvisational dance structures, experiential learning in the studio and a community group dance project. The purpose of this class is to utilize dance/movement as coping skill for resilience and positive well being.
Relaxation
with QueenLin Howard

Feb 8, 2018
This class will focus on using yoga inspired themes informing students on ways to maintain peace, grounding, mindfulness and self-awareness. Students will participate in activities involving deep breathing, centering techniques, meditation, stretching, aromatherapy, guided imagery and more. Take a deep breath and relax in the chill vibes of movement meditations.